The CatWorks T-Shirts and Sweatshirts
Help us advertise The CatWorks by purchasing and wearing one of these great shirts. T-shirts are $15, long sleeved T-shirts are $18; sweatshirts are $20 and come in a variety of fun colors in sizes S, M, L, XL, XXL and 3XL.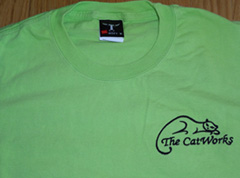 Click the following to view colors:
If you are interested, please contact us or stop by one of our Adoption Days to place your order.