Become a Foster Parent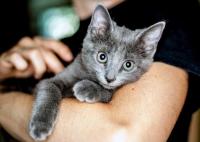 We are in desperate need of FOSTER HOMES! What does it take to be a foster mom or dad? Mostly just a lot of love and patience.
We ask only that you feed them and kiss them every day, and make them feel safe and secure. You may have to dangle a feather on a pole or push a ball with a bell in it. That's simple enough.
We pay all vet fees, and we do the transporting back and forth.
We will provide food donations when we get them, but otherwise we may need you to provide the food.
Then when your babies are up-to-date on shots, and properly neutered or spayed, we will adopt them out.
That's when the love swells up inside you. When you see your little kitten handed over to his new permanent home, you know you have given the greatest gift a person can give.
We are ALWAYS in need of loving foster homes for our kitties until they are ready to be adopted. If you are interested in fostering, please fill out our Foster Application.